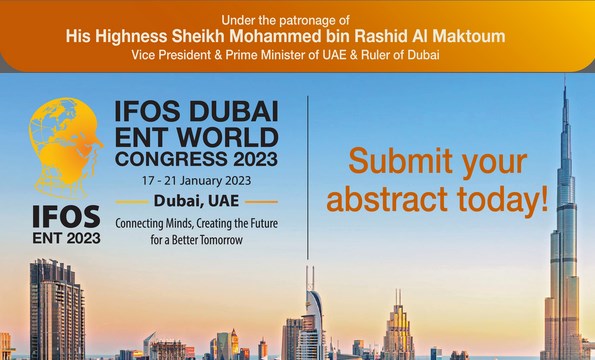 IFOS ENT 2023
Dear IFOS Committee Members/Ambassadors/Supporters/International coordinators/colleagues!
We would like to thank you for your active role and support in organizing IFOS Dubai – ENT World Congress 2023. We will appreciate your help spreading the news about the IFOS Dubai to your connections and encourage them to join us in January 2023!
Event Information:
Important Deadlines:
• Registration opens: 22nd April 2022
• Abstract Submission deadline: 15th May 2022
• Early Bird Registration deadline: 31st August 2022
Promotion text (you can adapt):
Social media: If you use social media, you can find and tag us: @ifosdubai2023 (Facebook and Twitter), IFOS Dubai World Congress 2023 (LinkedIn)
Join us on social media to receive regular updates:
Contact us if you want any specific marketing collaterals or if you have any other questions towards us.
Best regards,